Practical Farmers of Iowa will hold its 12th annual beginning farmer retreat Dec. 13-14 at Oakwood Road Community Center, located at 2400 Oakwood Road, in Ames. The event starts at noon on Friday, Dec. 13 and runs through 2:30 p.m. on Saturday, Dec. 14. Beginning and aspiring farmers of all ages, farm enterprises and farm sizes are encouraged to attend.
The cost is $20 for PFI members, $40 for non-members. The fee covers meals, workshops and a shared bedroom at the nearby Best Western Plus University Park Inn & Suites.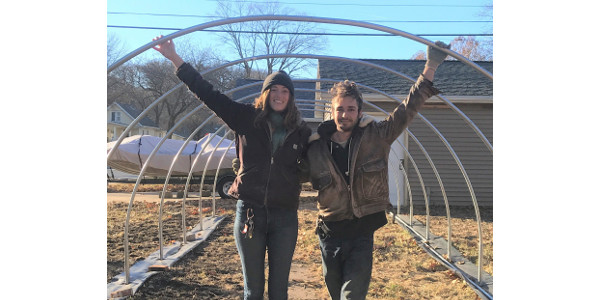 Attendees may specify a preferred roommate – but those who wish to have their own room must pay an additional $50. Guests are also welcome to arrange their own lodging for Friday night. Registration is required by Friday, Dec. 6. To sign up, visit practicalfarmers.org/beginning-farmers-retreat or call (515) 232-5661.
The two-day retreat brings together beginning and aspiring farmers of all ages, farm types and farm scales to network, plan for their farms and learn from one another while helping to build a sense of community among this fast-growing farming demographic.
In addition to enjoying social time, attendees will make progress on key components of their business plans. Individuals will work to create a farm vision and a set of goals, then receive feedback from others. A panel of "advanced" beginning farmers will be on hand to share their farm vision, how it has evolved and to offer insights.
Additional topics to be covered include marketing, finances and creating an advisory team. Programming will be offered for both aspiring and beginning farmers, with experts and peers facilitating the sessions and assisting with work time.
"This retreat gave me confidence that I'm more prepared than I usually give myself credit for, and I gained new knowledge, especially from the farmer panel," says Carly McAndrews, who operates Trowel & Error Farm near Iowa City.
Ben Rothman, an aspiring farmer from Independence, says: "The retreat not only generates excitement and enthusiasm about a farm or farm project, it develops a plan and you meet many people who are in the same boat you are in."
For questions about the retreat, contact Next Generation Director Greg Padget at greg@practicalfarmers.org or (515) 232-5661.
Support for beginning farmers is a top priority for Practical Farmers of Iowa members. The beginning farmer retreat is part of Practical Farmers' beginning farmer program, which provides resources and opportunities to help beginning and aspiring farmers create viable farm businesses.
Other beginning farmer opportunities offered by Practical Farmers include: the Savings Incentive Program, Labor4Learning, Find-A-Farmer, beginning farmer field days, farminars, farm transition work and more.
The beginning farmer retreat is supported by the National Institute of Food and Agriculture, U.S. Department of Agriculture, under award number 2017-01761-12301075.