Joe Hannan
Extension Commercial Horticulture Specialist
515-993-4281
jmhannan@iastate.edu
Local foods producers and consumers who rely on Iowa's farmers markets for food are able to conduct business as of April 24, according to a decision by Iowa Gov. Kim Reynolds.
The governor's Proclamation of Disaster Emergency allows farmers markets to operate, but only to sell food and farm products.
The markets should follow basic social distancing and hygiene and public health measures. Vendor booths are required to be at least six feet apart, and common seating areas are prohibited.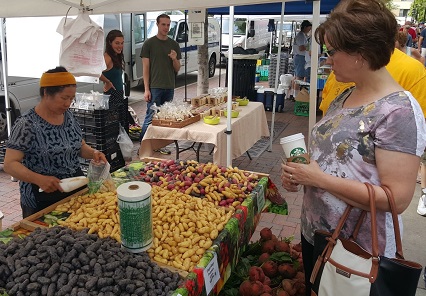 Iowa State University Extension and Outreach, along with the Iowa Department of Agriculture and Land Stewardship, recently put together several publications to help Iowans understand the requirements and additional best practices that should be followed.
"Guidance for Iowa Farmers Markets During COVID-19" is a one-page document that provides an easy-to-follow, bulleted list of what's required and expected.
"Farmers Market and U-Pick Best Practices and Regulations," published by ISU Extension and Outreach, is a seven-page document that provides food safety best practices and examples of the regulations surrounding distribution and shipping of food products in Iowa. Information is available on how to keep employees and visitors healthy, hygiene and cleaning, how to communicate with the public, and various alternatives for buying and selling farm and food products.
Joe Hannan, commercial horticulture field specialist with ISU Extension and Outreach, said the order is important for those who depend on outdoor food markets, but said it's still important to follow what experts are asking.
"It's great that we're open for business but that doesn't mean we can disregard social distancing or the other policies in the order," he said. "We still need to be careful and cognizant of what's going on in the world and how that affects what we do at our food markets."
Hannan said there has been increased interest in local foods since the start of the COVID-19 pandemic, with producers and consumers finding creative ways to exchange goods, while keeping their distance.
The best practices guide helps operators of those markets continue to do business, in ways that reduce exposure and promote healthy food sales.