Joe Hannan
Extension Commercial Horticulture Specialist
515-993-4281
jmhannan@iastate.edu
Zach Clemens
Communications Specialist, Integrated Pest Management
515-294-2020
zclemens@iastate.edu
The horticulture team at Iowa State University Extension and Outreach is debuting a new video series with detailed information on vegetable production and management in Iowa. This video series covers a range of topics, including:
Scouting, identifying and managing vegetables diseases.
Identifying and managing specific pests of vegetables.
Irrigation and high tunnels.
Understanding the importance of soil and the nutrients that feed plants.
Videos can be viewed by visiting the ISU Extension and Outreach Integrated Pest Management YouTube channel. Topics covered include: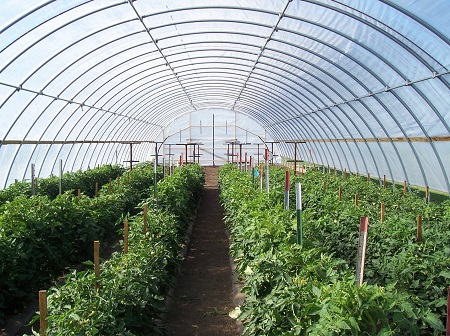 "Resources to Scout and Identify Vegetable Diseases and Insects."
"Need help with a plant problem? Get in touch with your Plant Clinic."
"Resources to Manage Vegetable Diseases and Insects."
"Tomato and Tobacco Hornworm."
"Squash Bug and Squash Vine Borer."
"Japanese Beetle."
"Irrigation Controllers."
"High Tunnel Controllers."
"Befriend Your Cations."
"Know Your Soil."
"Cucumber Beetles."
Colorado Potato Beetle."
Iowa State faculty and ISU Extension and Outreach specialists are prepared to provide the tools and knowledge you need to gain maximum yield from your vegetable garden, whether in a field, high tunnel or home garden.
"We hope this video series can be a great tool that helps all vegetable producers deliver a great product to market this summer," said Joe Hannan, commercial horticulture specialist with ISU Extension and Outreach.